Bretwalda Freight Service
Logistics for Germany and Great Britain
Thank you for visiting this page.
Bretwalda Freight Service is an integral part of Able Logistics (Europe) GmbH. This business leg is solely focussing on transportation and logistics services between Germany and the United Kingdom, also connecting the Orkney Islands and Shetland Islands via Aberdeen.
An established representative office in North Ferriby, East Yorkshire is supervising operational and marketing activities in the United Kingdom
This service offers regular trailer departures from/to Germany to/from the UK, catering for a safe and seamless transport process, using a pool of reliable hauliers.
German and UK customs clearance agents ensure smooth and fast cargo clearance.
We solve any logistical problem or issue you may encounter. Fast communication and rapid response are integral elements of our activities.
John Oscar Wurthmann in Hamburg
John calls himself "A German with an Anglo-Saxon spirit". This is owed to his personal connection with England. John follows the "Honorable hanseatic merchant" principle. A word is a word, a handshake is a handshake and therefore morally and contractually binding. These indeed hanseatic virtues guarantee fair competition. He is committed to these values. Steadfastness, open-mindedness and dependabilty are values firmly placed at his heart. Attributes in the spirit of the hanseatic merchants of the "Steelyard" in London, which was established in 1475.
Andrew Ulrick in North Ferriby, East Yorkshire
Andrew Ulrick in North Ferriby, East Yorkshire. Born in the UK in 1957 and educated at Holme Valley Grammar School, Honley, and Askham Bryan College of Agriculture, York. Andrew can look back on years of experience in the field of international trade, working for multi national companies in senior positions. He was one of the founding directors and owners of Clean Label Food Ingredients supplier Ulrick & Short Ltd which he sold in early 2021. Based in North Ferriby, East Yorkshire, Andrew is focussed on helping to meet the logistical requirements of our much valued UK Customers.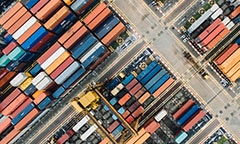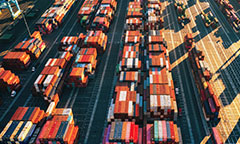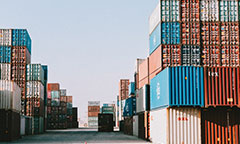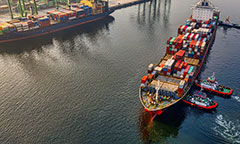 The European Union (EU) and the United Kingdom (UK) struck an agreement on December 24, 2020. It came into effect on 1 January 2021. Although it is a free trade agreement, goods must be cleared through customs. What does this mean for economic operators? First, more work and attention, because the UK is now classified as a third country.
The myth that goods are only carted from A to B by truck drivers is a long outdated way of thinking. At the latest since leaving the EU, many companies from industry and commerce have become aware of this. Well-considered route planning for trucks is essential. Paradoxically, the shortest route is sometimes not the fastest. It's all a question of scheduling, communication and reacting quickly to external factors, such as interruptions in ferry connections or port strikes. We respond to these challenges in the best possible way. We refrain from template thinking. Quick decisions and unorthodox actions in the interest of our customers are what distinguishes us. Concentration on the essential aspects, ensure the success of the customer. We fall back on a network, which offers us and thus also the customers a high degree of independence.
Everything stands and falls with the correct documentation. We are happy to take over the preparation of the export accompanying documents, because the logistical key factor for a successful and reliable transport to the UK is the preparation and clearance of the customs documents. We are aware that your efficiency is based on our efficiency.
Bretwalda Freight Service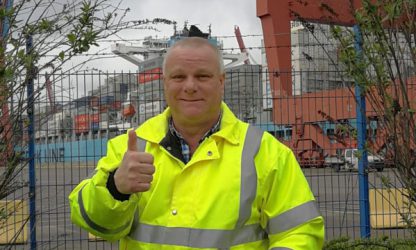 Bretwalda Freight Service | UK representative office Riverlodge Consultants Ltd.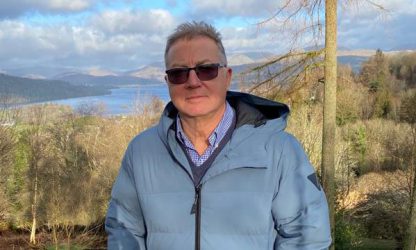 Bretwalda is an old English word. It stands for the struggle for supremacy during the entire period of the Anglo-Saxon heptarchy. The seven Anglo-Saxon kingdoms fought and traded with each other an their Scot and Celtic neighbours. The first record comes from the late 9th-century Anglo-Saxon Chronicle with references made to older concise historical records. It is given to some of the rulers of Anglo-Saxon kingdoms from the 5th century onwards who had achieved overlordship of some or all of the other Anglo-Saxon kingdoms. The Bretwalda would emerge more powerful than the other kings and could command their allegiance. It is unclear whether the word dates back to the 5th century and was used by the kings themselves or whether it is a later, 9th-century, invention. The term Bretwalda also appears in a 10th-century charter of Æthelstan. The literal meaning of the word is disputed and may translate to either 'wide-ruler' or 'Britain-ruler'. Aethelstan is deemed first "King of the English", after he conquered the Danish Viking Kingdom of Jorvik (Northumbria) in 927 and was recognised as overuler of a territory which covered most of today's England. (rex Anglorum)
The Sutton Sutton Hoo helmet
Some visitors of our website may ask what is this graphic image of a helmet all about ? What is this supposed to be ? The answer is : This is the Sutton Hoo helmet. A vital and integral part in English history, with a clear connection to Bretwalda. No less a historic figure than Raedwald the warlord and king of East Anglia († 617 or 625), wore this helmet in all probability. The archaeoligist Basil Brown discoverd this helmet in 1939 during an archaelogical excavation on the property of Edith Perry near the bank of the river Deben. When the helmet was found, it was smashed into 500 pieces, which were restored by the British Museum. An exact copy of the Sutton Hoo helmet was made. Raedwald is mentioned Bretwalda in an entry 827 (829) of the A-manuscript of the Anglo-Saxon Chronicle, which itself refers to the "Historia ecclesiastica gentis Anglorum" of the Venerable Bede.